Production Studio & Sound Stage For New York City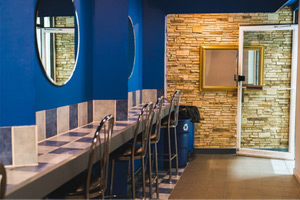 Are you trying to find the perfect production studio and sound stage for your New York City film, video, or photo shoot? If so, Butter Tree Studios is the perfect solution.
Our film, video, and photography studio offers New York City artists a state of the art studio facility complete with equipment rentals, stage design & construction service, prop design and construction service, fully functional sets, a scissor lift, an adjustable lighting grid, ample power, and a lot more. The studio is a large complex with a comfortable and clean environment that includes a large entry covered parking garage for loading and unloading equipment.
Our Butter Tree Studios film and sound stage facility is just what you need for your photo, video, or film shoot. Come by and check out Butter Tree Studios today. We would be glad to answer all your questions and discuss the details of your project with you.
Production Equipment Rentals
If you need monitors, live sound mixers, microphones, speakers, stands, mini-action cams, 4K live switcher, accessories, video jib crane, intercom headsets, green screen suits or green screens, grips, or specialty lighting equipment, we have it. Take a look at our equipment list and our gallery page to see what type of setup we offer or feel free to come by to see for yourself. Whether you want to take a photo of your family dog or create a full documentary film, our studio can accommodate you. With our assistance, you will be able to finely tune your objectives and artistic vision.
Set Design & Construction
Designing and constructing a set for live action media or for video production is a tedious and complicated effort. The number of tasks and specialties involved makes the project even more daunting. At Butter Tree Studios, our set design and construction team is extremely versatile and skilled.
In order to make the best visual media, one must have a properly designed and constructed set. The backdrop for the action of your film plays a defining role in the end product. At Butter Tree Studios, our production crew specializes in set design and construction. As such, we can help you with every aspect of this effort whether you want to use our existing sets orcreate something totally unique.
Throughout the entire process, our professionals and artists will constantly update you as to our progress and inquire as to your feelings, desires, and needs. In this way, we can ensure that the fully constructed set is completely customized to you.
In the end, our team will produce a set and scene that is the perfect backdrop to the story you want to tell and message you want to convey to your audience. You and they will most assuredly be satisfied with the final results.
Custom Fabricated Props For Photo Shoots, Film, or Video Production
One of the most important pre-production phases of the video making process is prop conception and development. Although you may have a firm idea of what you want to accomplish, developing all of the props that will be used in the film making process can be extremely difficult. Our prop designers can assist you with this highly specialized and complicated process.
Video Production For Web Presence & Marketing
One of the main objectives of any social media marketing scheme is to generate content that will be shared by followers. Videos, when well produced, are inherently shareable. As such, by incorporating video production into your marketing scheme, you will be able to spread your message from your followers to theirs. In addition, you will be able to collaborate with other businesses and peers to network and promote each others' efforts.
Butter Tree Studios is the perfect place to create your short web videos. Whether you intend to inform your potential customers, educate, or attract new customers and clients, our studio is here to help you convey the message.
If you are looking for a Production Studio or Rental Services in the New Jersey or New York City area give Butter Tree Studios a call at 973-585-7632 or feel free to come by our studios.