New Jersey / New York Studio Rooms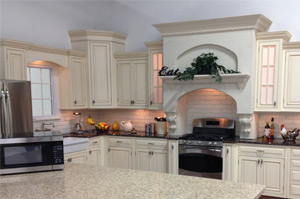 If you have an upcoming video/film, or photography shoot, please review our facility for consideration! At BUTTER TREE STUDIOS, our mission is to make your project run smoothly.
The Studio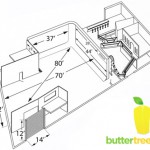 We are a newly opened sound stage/studio space in East Hanover, NJ (30 minutes from NYC) equipped with ample (and free) parking, and 8,000 sq. ft. of space, 4,000 of which is our empty studio space, which includes 3 hard white Cyc-walls, a 600 amp lighting system, a lighting control room, 18 foot ceilings – 16 feet to the lighting grid, and an oversized drive-in access, ideal for unloading equipment and/or shooting a vehicle commercial.
BUTTER TREE STUDIOS also provides dressing rooms, hair and makeup stations, conference rooms, an adobe living room, a washer/dryer set (great for shooting laundry detergent commercials), and 4 bathrooms (2 full, 2 half)!
Additional services/rentals include: green/blue screen, additional lighting/grip equipment, use of our upscale kitchen set (perfect for cooking shows, infomercials, commercials, etc.), custom-made sets, set design, and set construction.
3 Corner Cyc Wall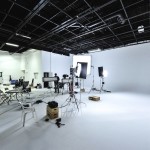 Our studio features a 3 Corner Cyc-Wall, also known as a Cyclorama. For more information please visit our Stage page.
Green & Blue Screen Rooms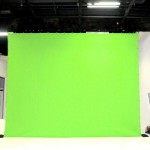 Please visit our Equipment page for a full description.
Multiple Kitchen Sets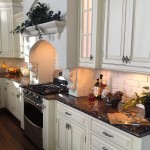 BUTTER TREE STUDIOS has two fully functioning kitchen sets and one kitchen countertop that are perfect places to shoot a cooking show, commercial or infomercial. Our high-end kitchen sets are complete with wood floors, custom cabinetry, high quality appliances, granite counter tops, tiled backsplash, and a lighted background. There is ample room for actors, the film crew, and their equipment.
Make-up and Wardrobe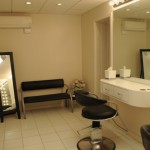 BUTTER TREE STUDIOS has comfort in mind, our make-up and wardrobe rooms are climate controlled with plenty of elbow room. Rooms include: adjustable salon chairs, a walk-in shower, garment racks, a private changing room, plenty of counter space, drawers, appropriate lighting and of course, mirrors.
Conference Room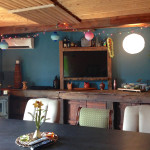 To make a project run smoothly you must have meetings for brainstorming, idea sharing, and final presentation. Everyone has to know what is going on and what to expect next. Use our conference room to conduct meetings about your project. Our conference room comes with tables, chairs, Wi-Fi and an entertainment center in a well-lit area. If you are addressing the whole staff, or just the key component personnel, this area is an ideal meeting place. It is an open, yet private area to hold production meetings.
Kitchen/Bar Studio Rooms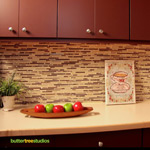 Here at Butter Tree Studios, we take pride in creating a variety of kitchen and bar studio rooms with great attention to detail. View our Kitchen and Bar Production Studio photos within our Gallery below.
Living Room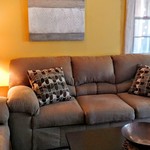 Comfortable functional/prop living room. Buttertree Studios is all about hospitality the room is shootable yet comfortable to leave your clients a place to kick back and watch a live feed from the cameras on set onto one of our living room flatscreens.


---
Gallery of Our Production Studio
If you are looking for Studio Rooms or Rental Services in the New Jersey or New York area give us a call at 973-585-7632