Production Studio & Sound Stage Rental In Princeton, NJ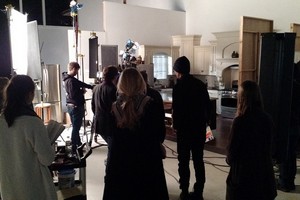 Film and video are constantly used to train employees, provide information to the public, sell products and services, record and sell music, and entertain. If you have a film or video production planned for any of these reasons, you'll need to rent a well-equipped Princeton production studio or soundstage.
Butter Tree Studios is a great place to rent your studio and soundstage. We are located just a short skip-and-a-jump from Princeton in East Hanover.
We have clients from all over the place such as Gerber, Procter & Gamble, Johnson & Johnson, Porsche, and MTV2. We also serve a long list of small local business owners who need to produce a video for their website or record music.
Call or come by today. We can't wait to show you around!
Our State-Of-The-Art Studio
Renting a fully equipped state-of-the-art studio is only a phone call away. You get 8,000 square feet of shootable space, a 4,000 square foot sound stage, 600 amp power system, a lighting control room, and an unloading garage with drive-in access.
Need Green Or Blue Screens?
We have the equipment you need to produce your film or video. From green screens and blue screens to prop rooms, a workshop, scissor lifts, and lighting grids, we have you covered.
We Have Kitchen, Conference & Living Room Sets
If you need a set for your video production, we've got options. We have kitchen and bar sets that are perfect for your cooking show or recipe video. Our conference rooms are decked out. You can actually use them to train your production staff or hold production meetings.
Wi-Fi
Conference table & comfortable chairs
Entertainment center for presentations
Good lighting
We Have Dressing Rooms!
Use our make-up and wardrobe dressing rooms to get ready for your studio production. These rooms are packed with amenities like a walk-in shower, adjustable salon chair, makeup counter, good lighting, large mirrors, and extra seating.
If you are looking for a Production Studio or Rental Services in the Princeton, New Jersey or New York area, give us a call today at 973-585-7632.