Looking For A Studio Or Sound Stage To Rent In Ramsey, NJ?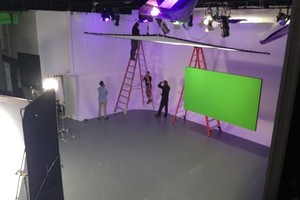 Whether you are producing a commercial, recording music, making a training video, or making a website video, a good production studio and soundstage is a must. Renting space will make a huge difference in the quality of the production.
However, you don't want some small studio that doesn't have good sound equipment. And you may need a set stage or some special equipment like a scissor lift.
Butter Tree Studios is the perfect place to go for production studio and soundstage rentals in Ramsey. We provide a lot of extras like a nice dressing room, an easy-access unloading garage, and a 600 amp power system. Our space is huge, too, with 8,000 square feet of studio, 4,000 square feet of soundstage, and 18-foot studio ceilings.
Just call or come by to get a tour. We would love to help you produce an exceptional video, recording, or film.
Our Studio, Every Room Cool & Comfortable
Our 25 tons of silent AC will keep you cool no matter which stage or set you are working in. You may not know how hot good lighting can get.
Our conference room sets, kitchen sets, living room sets, office sets, and bedroom sets are just as comfortable as they are in your own home. They are all tastefully designed by a professional.
We Can Design & Build A Custom Production Set
We conceive, design, fabricate and construct custom production sets all the time. We have a full staff of artists who are ready and able to meet your unique production needs.
We also design and fabricate custom props every day, from small to large. Want a slithering snake? Need a Viking ship? We have you covered.
Blue Screens, Green Screens, Scissor Lifts & More
We have a large list of production equipment available if you need it. One of the main types of equipment you will use to produce a film or video is lighting tools. We have grip & electrical, extensions & stands, flags & frames, scrims, roller stands, and so much more. We even have green screen suits, handheld audio recorders, and mini action cams.

If you are looking for a Production Studio or Rental Services in the Ramsey, New Jersey or New York area, give us a call at 973-585-7632.