Professional Production Studio In Staten Island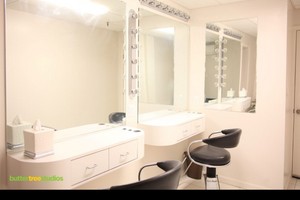 Our team of professionals here at Butter Tree Studios have worked tirelessly over the years to create an environment for you to truly bring your artistic visions to life. Our high quality sound stage and professional quality film studio consists of 11,000 square ft, 4,000 of which is simply empty studio space for you to utilize custom sets, custom lighting setups and schemes, and a number of other filming and photography amenities that we have on hand to help you make the most out of your next project. Our team of professionals are always on hand and are prepared to do what is needed to help make sure that you project goes off without a hitch, and comes out better than you ever imagined it could.
It doesn't matter if you have a commercial you are looking to film, an infomercial, or a kid's show, our team of experts have breadth of experience in the industry to help you get the project done and help you make sure the process goes as smoothly as possible. There are a number of different ways to grab the attention of your target audience, and our team of professionals can help you come up with the ways that will be most effective for your particular needs. While simply being repetitive is enough for some companies, you will normally always get better results by having a product that stands out from all of the rest. You can have the best product in the world, but if you don't present it with the right level of showmanship and excitement, it isn't going to do much for you. Here at Butter Tree Studios, we can help you get your product the attention it deserves, and with our professional production studio, can work our filmmaking magic to get your product noticed.
If you have any questions about our wide range of production services available to you, give us a call today. Our team of Staten Island film production specialists are always standing by and willing to help however they can. We look forward to hearing from you.
Staten Island Production Studio Services
Here at Butter Tree Studios, we have what you need to get your project rolling and help you transform it into the masterpiece you always wanted it to be. Our range of production studio services include:
Custom Set Design
Fully Customizable Set Lighting
State-Of-The-Art Control Room
Green & Blue Screens
And Much More…
Daytime Talk Show Set In Staten Island
Our professionals daytime talk show set has interchangeable furniture and background props so that you can customize the space to suit your particular needs. Our fully customizable lighting grid means that you will be able to get light wherever you need it, and we even have additional lighting equipment to spare if you need more.
If you are looking for a professional production studio or rental services in Staten Island, NY, give us a call today at 973-585-7632.